Kellie Strøm was born in Copenhagen, Denmark, in 1967. Raised in the wild woods of Ireland with brother Enda, he now lives and works in London's concrete jungle with artist Susanna Jacobs (http://www.susannajacobs.com) and their son Bo. Kellie's Danish father is Holger Strøm, designer of the IQ Light System (http://www.iqlight.com) and his Irish mother was Dor Walsh, a weaver and classics scholar.

He's made his living as a cartoonist and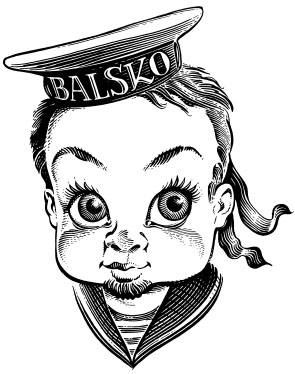 illustrator since age nineteen, working for papers in Ireland, Denmark and the UK. Along with Irish writer Stephen Walsh, he produced a 48 page comic horror book "The Acid Bath Case" for Kitchen Sink Press in 1992. His Airforce Amazons (www.airforceamazons.com)short strips have appeared in various small press publications in Europe.

As well as cartooning and illustration, Kellie has also done film and theatre design work for Jim Henson's Creature Shop, as well as developing an animated film project with the Irish Film Board through his company, Balsko Film Ltd. He's currently hard at work on his first children's picture book, and writing new Airforce Amazons stories too.
* * *
Kellie Strøm's Comics & Cartoons
http://www.balsko.com