Family Matter by Will Eisner: Signed & numbered hardcover edition (Artist's Proof).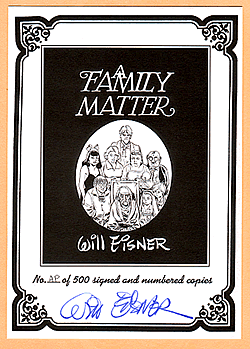 Published in 1998, this was one of the last books from Kitchen Sink Press, which expired soon afterward. Family Matter is one of Will Eisner's darker graphic novels, focusing on the plight of an invalid but proud ninety-year-old patriarch who watches and overhears his dysfunctional family unravel during his final days.
500 signed& numbered hardcover editions were produced and sold at $39.95. Only 25 Artist's Proofs were produced, of which this is one, from the publisher's personal collection.
No A/P editions have been sold until now.
9" x 11", 68 pages. Black with color tones throughout. Five-color cover (Silver foil signature line). Near mint. Hard to find.
(bookplate pictured at right:)