R. Crumb's Music Cards: Heroes of the Blues from Denis Kitchen Publishing Co. - 3rd printing -2011

The Heroes trading cards, ardently sought by collectors for years, are FINALLY BACK IN PRINT!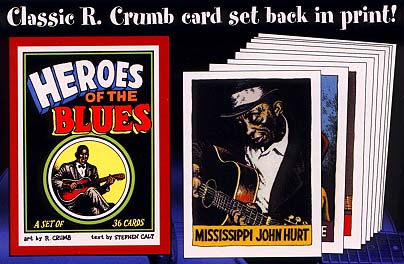 The 36 cards (on heavy card stock) are packaged in a very cool 3 x 4 x 1 inch gift box. Depicted are the legends of early blues history: Mississippi John Hurt, Son House, Blind Lemon Jefferson, Memphis Minnie, Charley Patton, Jaybird Coleman, Big Bill Broonzy, Barbecue Bob and many others. A bio of each musical artist by historian Stephen Calt is on the back. And each musician or group is lovingly drawn in full color by underground comix legend R. Crumb.
The life of ROBERT CRUMB, the most famous of the underground cartoonists, is an open book. He draws and writes unashamedly about the most intimate aspects of his existence in his comics and sketchbooks. He has been documented by the BBC, and several filmmakers, including Terry Zwigoff, whose remarkable Crumb won a Sundance Award. He's also an accomplished musician and collector of vintage 78 rpm records.
* * *
See below for ordering the other two sets in this series (Country and Jazz cards).