Dancin' Nekkid With the Angels: Comic Strips & Stories for Grown-Ups by Howard Cruse.
Signed & numbered hardcover edition (limited to 1,082 copies).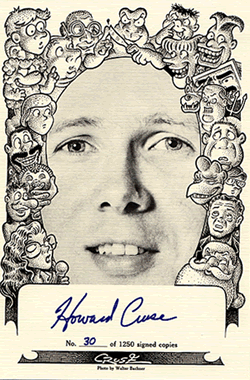 Published by Kitchen Sink Press in 1987, this is a "best of" collection of stories by acclaimed underground cartoonist Howard Cruse, including "Billy Goes Out," "Jerry Mack," "Dirty Old Lovers," "Hell Isn't All That Bad" and and many more memorable pieces which first appeared in underground comix such as Snarf, Bizarre Sex, Gay Comix and Dope Comix.
Cruse is probably best known as America's foremost gay cartoonist, but that is too limiting. It is more accurate to say that Cruse is one of America's foremost humanist cartoonists. This is an outstanding collection of Cruse's work to this point in time, with first rate production standards.
8.75 inches x 11 inches, 104 pages. [Note: the signature plate says "1,250 copies" but exactly 1,082 hardcover copies were manufactured and no Artist's Proofs were produced of this book.]
Retailed for $25 in 1987. Out of print for nearly fifteen years, these copies are from the publisher's private collection.